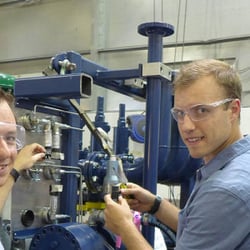 Collaboration is a core principal of our business philosophy. To facilitate the process, save time and eliminate errors we adopt intelligent technology that allows us to design in real time.
Our chosen technology allows us to collaborate with our customers and external team by connecting mechanical and electrical engineering design teams and allowing us to accelerate our design iteration process for complex electrical systems.
Project collaboration is seamless, synchronized and bidirectional. This allows our partners and clients to be more productive, saving time and money.
Our projects in the amusement park ride/rails category are complex and demanding due to high safety requirements while pushing the limits of modern control technology. Our collaborative work process keeps team members up to date, working together and better allows for work that is innovative and transformative.
Our Collaborative tools drive innovation & productivity
Recently we completed an electrical schematic design development project for a client in the resource industry:
"With the implementation of the collaborative server electrical design tool and a smart, unified project management system we were able to simultaneously develop electrical drawings in the same file with a large team in 5 geographic locations. The project was successful because the project is being completed 30% ahead of schedule and below budget. Instead of having a single designer work on a drawing package, the whole team was able to design, check and approve drawings as they were being created."
Hedgehog Technologies specializes in electrical engineering project management and systems design of high-energy control, manufacturing, smart grid and automation systems. Download our corporate fact sheet.
Stay connected with Hedgehog Technologies: on LinkedIn and Twitter